DESIGN
A whole new spin on the phone
Impossibly compact for maximum impact
Galaxy Z Flip folds to be surprisingly small for an outstanding design that easily fits into your pocket, bag, or accessory.
See the future with every fold
It's an all-new, foldable form factor. Small, durable and unlike anything you've held before.
*Image simulated for illustration purposes.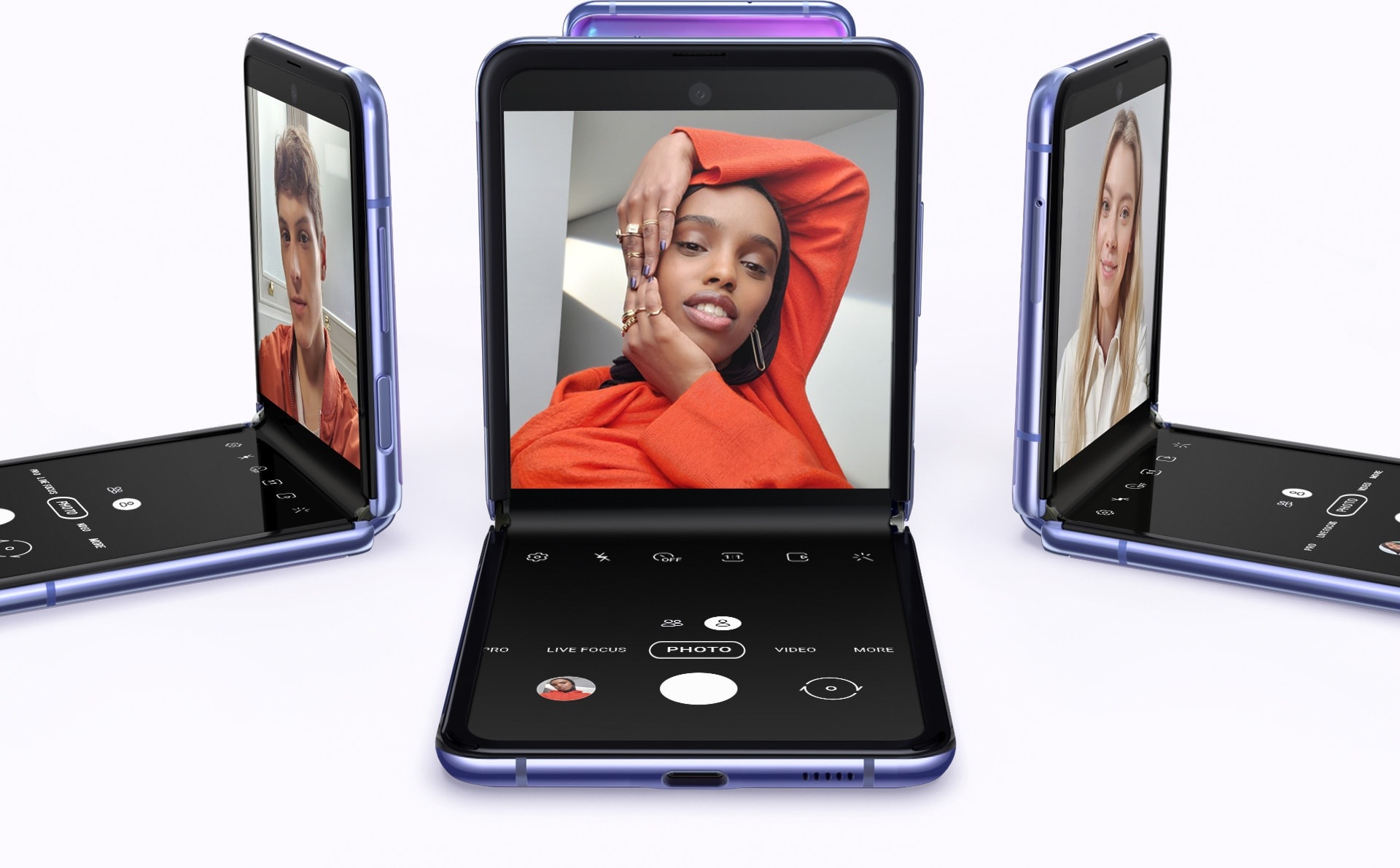 Beauty is in the hand of the beholder
Galaxy Z Flip's unique form factor is enhanced with an impossible-to-ignore, color-shifting exterior in your choice of stunning hues.
Absolutely stunning, all the way around
Front to back, top to bottom, open to closed. Whichever way you look at it, the Galaxy Z Flip is one good-looking device.
The full screen that fits in your pocket
Galaxy Z Flip's Infinity Flex Display is an immersive Dynamic AMOLED screen delivering incredible colour quality and reduced blue light. With minimized bezels and no notch, it's 6.7 inches of stunning cinematic viewing.
6.7″Infinity Flex Display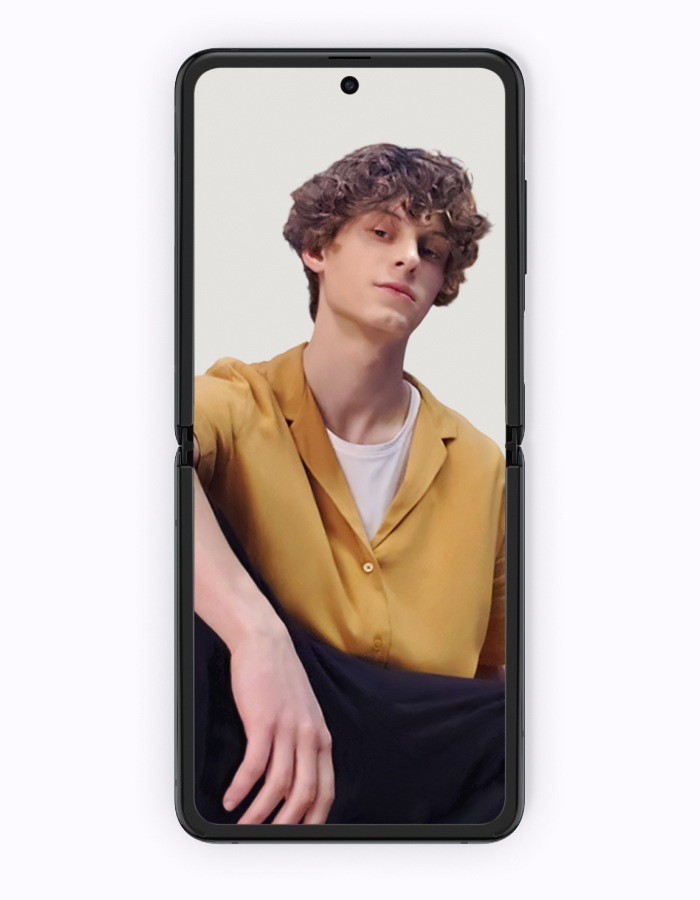 *Image simulated for illustration purposes.*You may notice a crease at the center of the main display, which is a natural characteristic of the screen.
Glass. But make it fold
Meet the first-ever folding glass screen on a Galaxy. Yeah, we said folding glass. Made of Samsung Ultra Thin Glass, it sets you up for an epic view with a smooth flat screen.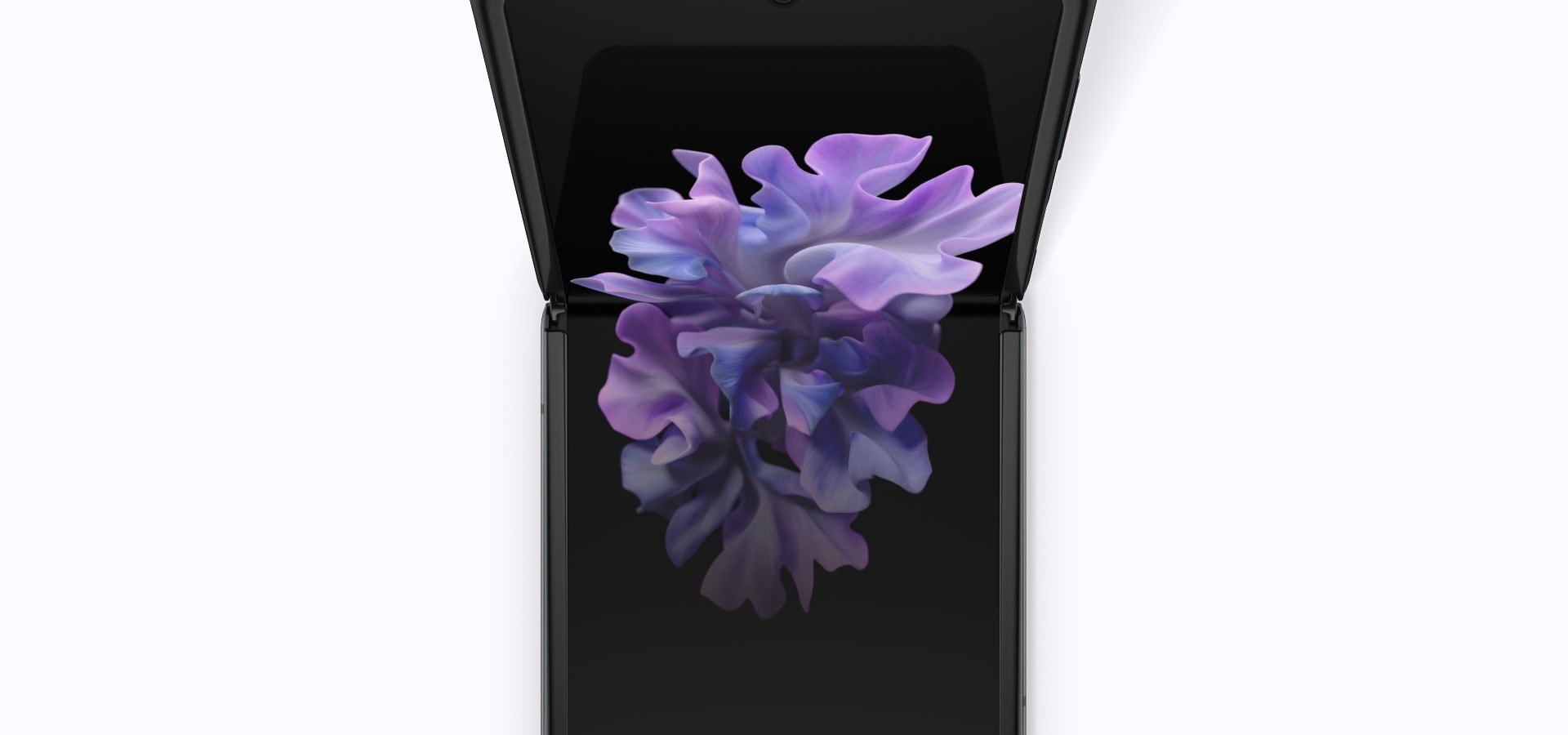 Camera
Your unique point of view just got more unique
Close-up of the rear camera on Galaxy Z Flip in Mirror Black
The smartphone that can stand on its own
Galaxy Z Flip folding technology allows for hands-free video chats and previously unreachable selfies. So, fold it, flip it, stand it. However you set it up, it reinvents the way you take photos on your phone.
*Image simulated for illustration purposes.
A new perspective on how you shoot photos
Galaxy Z Flip folds and holds its position at multiple angles, giving you the ability to capture amazing low angle shots that play with perception for thought-provoking photos. Call it the new power pose.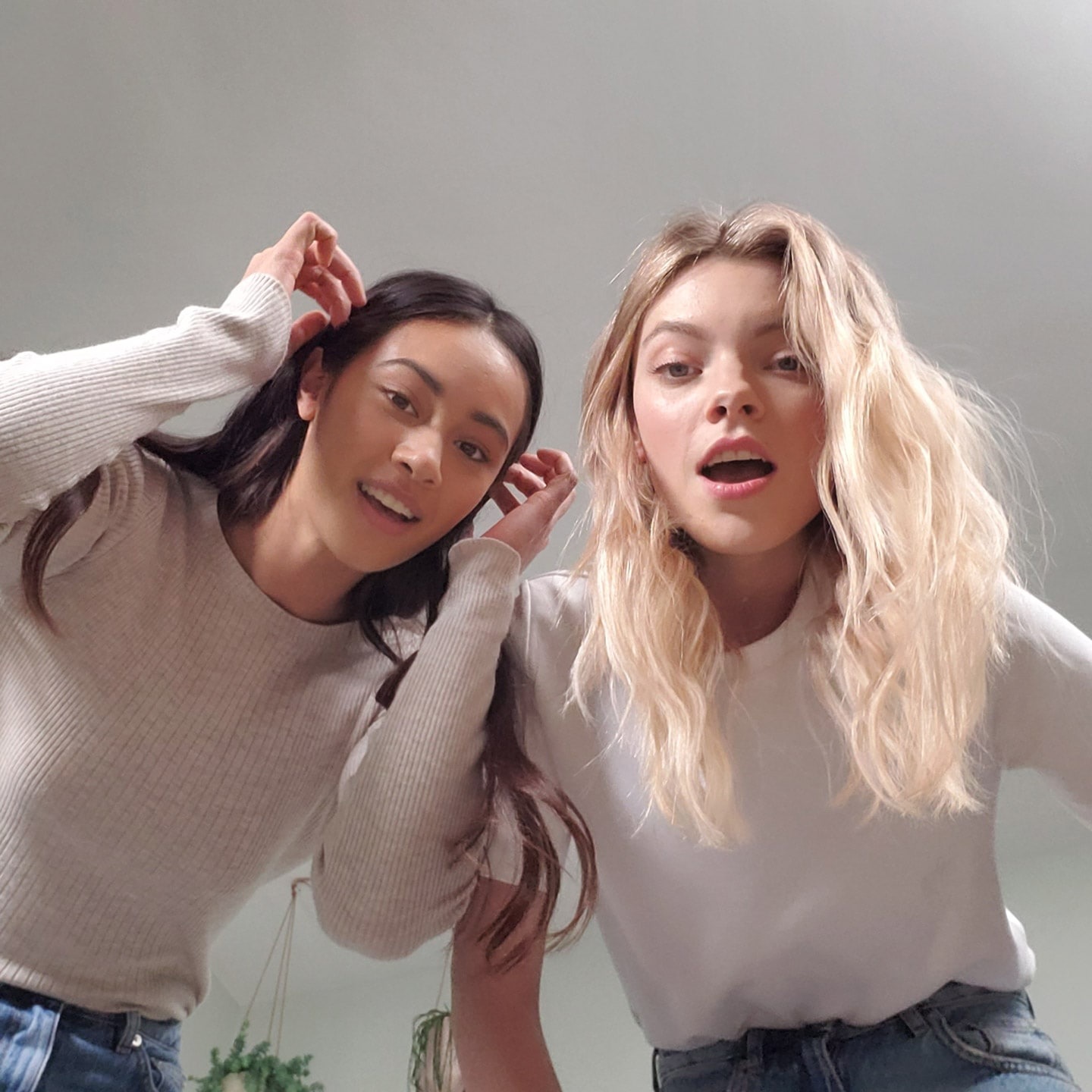 Ready for the night scene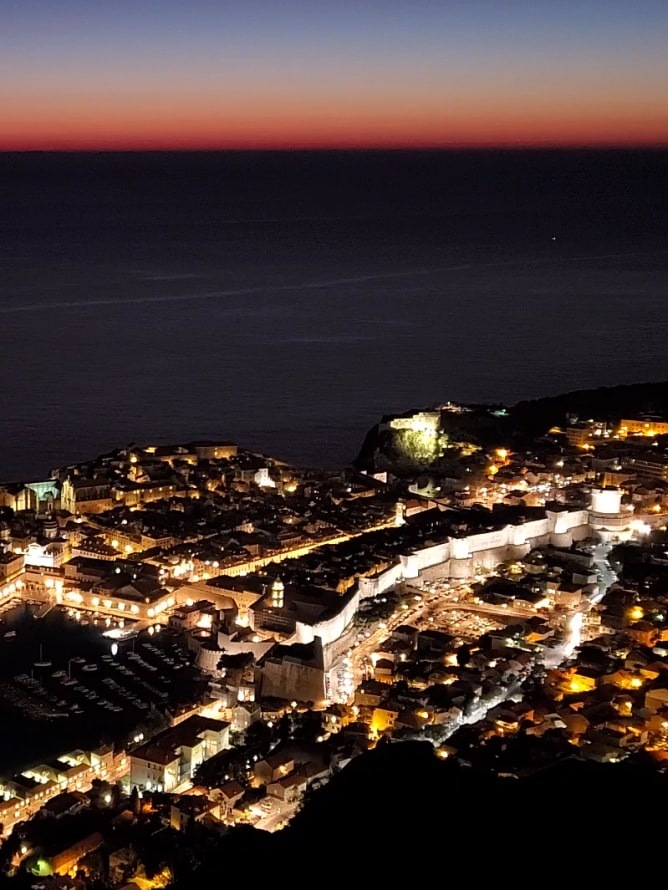 Experience
The phone experience, reimagined
Galaxy Z Flip in Mirror Purple seen at a three-quarter angle. It turns to the side as you scroll and then snaps shut
A whole new angle on video chatting
Upgrade your voice call to a Google Duo video call and instantly experience clearer video chatting with the 10MP Front Camera.
*Google Duo is a trademark of Google LLC.
Do it all. All at once
Level up your app use by having two open at once. Even better, launch two simultaneously — you can pair up apps you frequently use together. With App Pair and Multi Active Window, multitasking is awesome on the massive 6.7″ screen.
*Applications in the Edge panel are not preset and need to be selected by the user in Settings.
The power to outlast your day
The dual battery holds more power in less space, letting you fold and unfold all day long. With 3300mAh (typical) and cutting-edge intelligence, Galaxy Z Flip's all-day battery lets you make the most out of every charge.
Plus get all the best of Galaxy phones
Wireless Power-shareYou can charge your Buds+, watch, and even a friend's phone.

StorageSave all your hands-free photos and footage with 256GB storage.

AP & RAMA powerful 7nm processor and 8GB RAM let you livestream, binge stream, and multitask with little lag.

Cinema-grade displayAn HDR10+ certified viewing experience.

Eye care displayReduces eyestrain and sleep disturbances without sacrificing colour.

Samsung KnoxMulti-layered protection to secure your phone from the chip up.

AuthenticationUnlock your phone with Face Recognition, Fingerprint Scan, or a PIN, pattern, or password.

4K UHD RecordingRecord high-quality video that plays back as detailed as when you saw it.

Photo and Video BokehBlur out backgrounds and add bokeh effects for artistic photos and videos.

Super steadySuper steady stabilizes video to make action shots look easy.

Ultra Wide CameraWith 12 megapixels and a 123-degree field of view, photos and panoramas are taken to the next level.

Custom FilterCreate your own filters based on the colours of a photo you love.

Single TakeTurns seconds of footage into a variety of formats to choose from.

ConnectivityUp to 1.0Gbps LTE keeps you downloading and streaming with little lag.

e-SIMLets you store carrier plans and quickly switch — no SIM card swapping required.
What's in the box
Accessories
Enhance your Galaxy Z Flip experience
Take Galaxy Z Flip to a whole new dimension with your choice of cases. The Leather Cover features soft calf leather and a thin profile for elegant folds.